SKIMAG HOME SKI TRAINER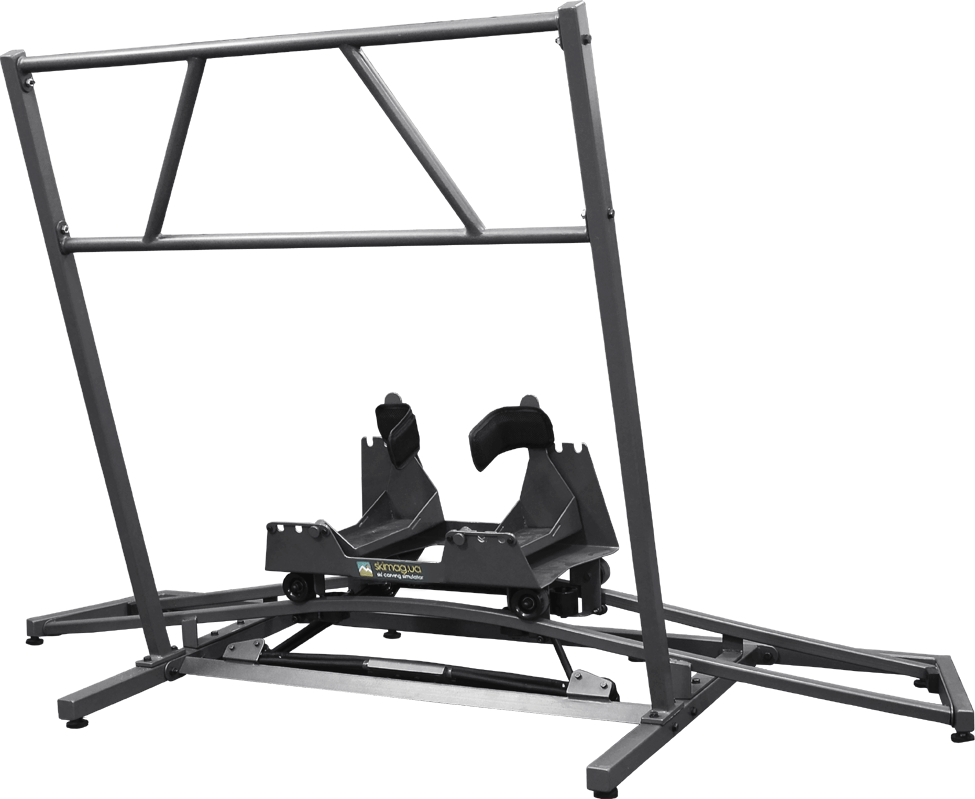 The SKIMAG HOME simulator is designed for small rooms and apartments. It functions the same as SKIMAG PRO principally, but has smaller overall dimensions and has no dynamic suspension. It makes the task from 5 to 100 sits down very exciting. At the same time, it works out the simultaneous work of the legs to create the right muscular-articular memory, so later to make the perfect cut turn on the slope!
Dimensions:
- the width - 1993 mm,
- the height - 1240 mm,
- the depth - 870 mm (at the very extreme points).
The overall dimensions of the carriage:
540 x 413 x 412 mm (at the very extreme points).
The simulator weight:
- the total weight: 54.7 kg
- the base without racks and a handrail: 25.4 kg
- the racks and handrail: 12.2 kg
- the carriage weight: 17.1 kg
The overall dimensions when packed:
- Case No.1: 2100 x 500 x 300 mm * (contains the base of the simulator, racks and a handrail)
- The bag-case: 580 x 420 x 320 mm * (contains a carriage, foot supports in 2 pcs., wrenches- 2 pcs., bolts and nuts)
* the sizes shall depend on the twisted covers not considerably.
The Weight of the Simulator in covers:
- the total weight: 64.4 kg
- Case No. 1: 42.8 kg
- Bag-case: 21.6 kg
All simulators have a polymer coating, created on the basis of powder paint - this is a new environmentally friendly technology. Today it is considered one of the most advanced coatings for metal. The basic color for painting the simulator is anthracite RAL 7016. At your request, we can paint the simulator in the color you have chosen. The selection should be done using the RAL color table and tell us the color number.
SKIMAG HOME Edition
price: 46750 UAH